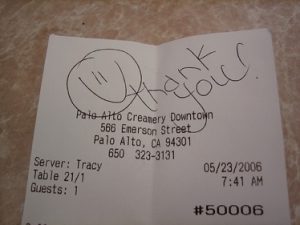 Money management used to involve filling out checks and writing down the payees and check amounts in a balance book. Statements arrived once a month in the mail, and you reconciled your balance against the checks you wrote to determine which ones were cashed and which were outstanding. This is still true to an extent, but the smartphone has changed how people manage their money. Apps have led the way on managing money down to the second it comes out of your account, but there are other ways to use your phone to keep track of spending.
Take Pictures of Your Receipts
Do you prefer to keep your receipts but find that you're always losing them? Take a picture! It doesn't take much effort to lay the receipt out on a flat surface and snap a picture. And if you're worried about losing track of your pictures, don't. You can always organize your receipt pictures into their own folder for quick retrieval later. If you're on a data plan, set the pictures to upload via Wi-Fi only or get an affordable phone plan from T-Mobile on its far-reaching data network to eliminate data overages. Sit down at your computer, access your folder for your receipts through your preferred connection, and start entering information into your financial spreadsheet.
Use the Native Note App on Your Phone
iPhone has Note and Android has Keep. Both can help you keep track of little bits of information. Pull up either app, enter your receipt using your own personal system, and retrieve the information later. The beauty of either app is that they're accessible from a desktop or tablet if you sign in with your account. Everything is stored in the cloud, which allows you to access the information with ease.
Know Your Balance
It's one thing to keep a running tally of your purchases, and it's another entirely to know where your balance stands. Check your balance regularly instead of guessing that you have enough money in your account. You might be in the habit of going a couple of days without checking the balance, or you might go longer because life got in the way of you taking a look. It's okay if this happens occasionally, but it's not okay if it becomes a habit. Not looking at your balance doesn't make the problem of spending go away; in fact, it can easily make things worse.
You need to know what and where you're spending so you can keep up with your bills and not go into the red. Remember that small purchases on a debit card add up quick. Look at it this way: four $5 purchases is a $20 expense, and you wind up spending faster on small purchases than you might realize. Review your balance regularly to determine how to change your spending habits.
Monitor Your Online Purchases
Amazon and eBay are known as places to get the best possible price for anything you want. The only problem with Amazon is that its algorithm changes the price of a product depending on demand, how many times you've searched for the item, and whether you've bought it in the past.
eBay still runs auctions, which means you might overpay on a purchase if you're not paying attention. Use the apps for either site to look for the best possible price of the item you're after. You should also check other websites for comparable items. Make sure to keep an eye on any eBay auctions you've bid on, and don't let yourself get carried away in the last minutes of a bid war. Chances are high that someone else has the product unless it's very rare or unique.
These are some of the ways you can use your smartphone to better manage your money. It all comes down to making sure you know what you're spending at any given time. Spend only what you should, and keep an eye on your balance to protect your bottom line. And don't forget the importance of being a savvy shopper.
Image via Flickr by naotakem
More from the web: