I woke up Saturday morning with a high level of excitement and anticipation – after driving the same vehicle for 9 years, I was finally buying a new one. I could have swapped cars in the past, but I've loved my Toyota 4Runner – 174,000 miles later and it's still driving just as good as the day I got it. Over the many years that I've been driving, it's the one vehicle that I never grew tired of. However, as I near the 200,000 mark, I know there will be large expenses down the road and I feel like now is the best time to sell while I can still get a decent chunk of change for it.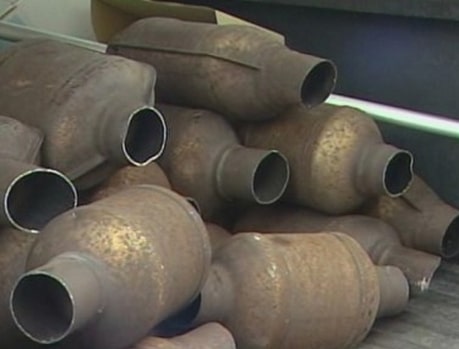 I climbed into the 4Runner for what may be the last time and crank her up. WHAT!? That doesn't sound right…since when did I have a Cat Back exhaust system installed?  I quickly turned the car off as the sound was unbearable. Next I looked underneath and my fears were realized – some had stolen my catalytic converter.
Apparently, desperate thieves are climbing under people's vehicles, removing the converter with a saw, then selling the part to a salvage yard for $150 – $200. They don't even reuse the part because many states do not allow you to install used converters. Instead, what they do is remove the precious metals platinum, palladium and rhodium. Just like everything that gets stolen, the $2000 cost is much higher to replace what is now gone.
A word of advice for those of you with an SUV or truck – you might want to look into getting some kind of catalytic converter anti-theft device installed. They run about $150, but if you live in a state like CA where converter theft is rampant, it's well worth it.
Stealing from other people is the lowest of the low. These people obviously have no respect from other individuals or the basic rules of our society – not to mention the law. I would have loved to stumble across this person as the lay there below my vehicle with their legs hanging out the Wicked Witch of the East. Believe me, they would not have escaped from underneath my car without the addition of a few shoe imprints.
One thing is for sure, these thieves would not be in the desperate state they're in if they read informative and well written personal finance articles like these below:
Can Tom Cruise Teach Us About Divorce? We all know divorce can be a costly process no matter where you are financially in your life. Ted Jenkin @ YourSmartMoneyMoves presents four financial ideas to potentially help you if you have to go through separating your assets in a divorce.
10 Ways To Save Money On Self-Storage. Moving is a part of life. It seems like these days, getting a self-storage unit is becoming more of a part of moving. Let the Squirrelers tell you how you could be saving money storing extra things.
When Credit Beats Using Your Emergency Fund. Thankfully, I was able to secure a very low rate below 3% to purchase a new vehicle. Because I'm earning 5% on my emergency fund, it makes more sense to borrow the money. Justin @ The Family Finances discusses this philosophy in terms of appliance replacement.
6 Ways To Conquer Materialism. If we all started to focus on what really mattered, we could save so much money in the long run, and our net worths would go through the roof. Free Money Wisdom lists 6 ways to conquer materialism once and for all.
Do I Need Landlord Insurance? I have a few rental properties and when I first became a landlord, I was clueless. As Corey @ Retired Landlord points out, homeowners' and landlords' insurance are two completely different things. If you are renting your home out, you need to have the correct one in order to be covered.
I hope you enjoy these Sunday reads and remember, watch for legs sticking out from under your vehicle – that's not the Wicked Witch of the East unless you're in Oz.