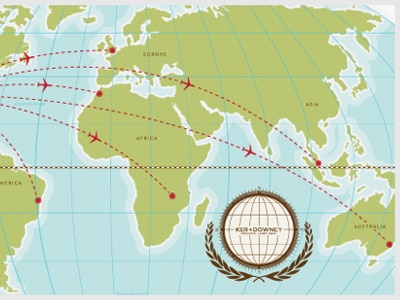 This week I'm on a family vacation. While we were fortunate to be able to drive to save money, we already know where the next reunion is since they are planned two years in advance. With the next destination, driving won't be an option. Seeking out great airfare deals will be so important for us when flying across the country!
Like everything else, the cost of airfare has gone up substantially in the last few years. With air travel there are many more costs involved that one needs to consider as well such as potentially paying for checked luggage and paying for food during the flight. Things that we used to expect with air travel are no longer included with our airfare fees. Scoring a good deal on the overall airfare cost is more important today than it ever was.
Take a look at this Cheap Airfare Infographic!
When to Buy Airfare
Buying your airfare ticket well in advance will usually be cheaper than waiting last-minute. Since last-minute tickets are usually bought out of necessity, airlines can get away with charging more. Seating on the plane is now at a premium. Conversely if the plane isn't at full capacity, waiting for a last-minute deal will sometimes play out in your favor since the airline may discount tickets to fill the plane. If you're unsure about your destination, asking a travel agent will usually give you a better idea about whether to buy early or wait for a last-minute airfare deal.
Where to Buy Airfare
The internet has changed how we plan our trips. With thousands of sites offering deals, as well as traditional travel agents, it can be overwhelming. I always shop around online. Even with sites promising to find the best deal for you, I always shop around individual sites myself. My efforts usually result in finding a better deal on airfare than any site  that compiles results for me. Even with great online deals it never hurts to ask a travel agent if they have anything even better. Some travel agencies have access to deals not available online, deals that aren't always advertised. When we flew to Europe on our honeymoon, I found the best deal  I could online but called a local travel agency to see what they could come up with before booking. I'm glad I did since she was able to get me the same airfare tickets for $50 less, each way!
Check All Options
Sometimes, there are savings to be found. For example, when flying to New York City, you have more than one airport to choose from. Make sure you do your due diligence and check all options  before booking. This is true for many cities world-wide, if you're unsure about options ask around, check online forums or use an agent.
Since airfare is usually one of the larger costs involved with travel it really pays to do your homework. In our case, we're hoping to be able to pay for one ticket using a rewards program but unsure how it may play out come that time.
Don't purchase the first ticket you see. Make sure it's the very best deal since the better price you get on airfare means more money in your pocket!
How do you save on airfare costs?
[Featured image courtesy of http://dribbble.com/brittanpittman]