Sandile Shezi is the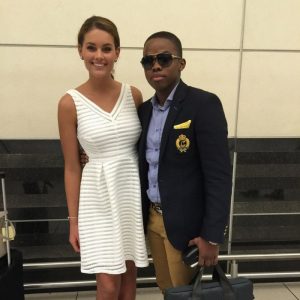 man you see in the picture to your left, and his story is one that you would not first think of when looking at this picture. However, Sandile is currently South Africa's youngest millionaire, at the tender age of 23, but did not inherit his wealth, and his quest is very noteworthy.
The Story of Sandile
According to numerous sources, Sandile created his wealth from Forex trading on OTC markets. However, before building his wealth in this way he began by selling clothes door to door, and before that even selling food at his high school.
After dropping out of school to pursue his dreams of becoming rich, he has amassed at least a million in cash. He has also founded his own company, The Global Forex Institute, which has a goal to provide the masses the ability to trade forex and make profits just as he has. His website can be found here: http://globalforexinstitute.co.za
Lesson to Be Learned
Sandile has been quoted saying that his main inspiration for starting his business was in fact being in poverty, which is very inspirational indeed. This quote should resonate in anyone's mind who is contemplating whether they can make it out of poverty and be financially healthy. The truth is that anyone who is willing to work hard enough can get out of poverty. This may take many sacrifices, and very hard work, but if a 23-year from South Africa can become a millionaire, it should give us all inspiration that we can at least create a healthy life for ourselves by working very hard.
This may be my opinion, but I would ask that you do some research and let me know here; go and search for any very successful person in any field, and they will tell you they worked extremely hard to achieve what they, and likely sacrificed a lot on the road there. In my opinion, and I'm willing to bet that Sandile would agree, if you want to become successful and wealthy, hard work will not guarantee it, but it will be your first and most necessary step.
A video of Sandile can also be viewed here: https://www.youtube.com/watch?v=wV4DC9mC6U4
Is He Legitimate?
By my search online, yes he is, and this video above helps for proofing him. The only piece of information I have not confirmed in whether the million that he has is in U.S. dollars or in South African currency. However, regardless of this, Sandile has still been able to rise above his previous state of severe poverty, to one that is much brighter, and his story can give inspiration to anyone trying to better themselves!
You can Even Check Him Out on his facebook page here: https://www.facebook.com/Sandile-Shezi-946108042115625/